Factors that cause bandage complications in equines and how they can be resolved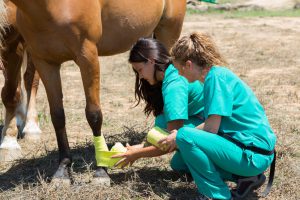 Author(s):
C.M. Bennett
Published in:
Date:
July 2021
DOI:
Type of access:
Requires membership/payment
This article can be accessed via RCVS Knowledge Library Membership (click here).
Bennett, C. M. (2021) Factors that cause bandage complications in equines and how they can be resolved. UK-Vet Equine, 5 (4), pp. 168-173.
This review article discusses the various factors that need to be considered to prevent and resolve bandage complications in equines.
The causes of bandage injuries, both primary, which occurs whilst the bandage is in place, and secondary, which occurs 24-48 hours after removal, are considered together with the three principles that should be followed to achieve a correct bandaging technique: magnitude of pressure; distribution of pressure, and application of Laplace's Law – that tension in the walls of a container is dependent on both the pressure and its radius.
The following section discusses how to resolve complications, and the importance of close monitoring is stressed. Referring to the human medical literature, the author examines the factors to consider when designing an effective compression bandage, including mathematical models for effective pressure and the impact that different types of bandaging materials can have on the pressure exerted.
The review highlights the lack of available evidence on equine bandaging and makes recommendations as to where additional research would be beneficial. Recommendations for veterinary practice are also made; these include having whole team bandage protocols, enhanced client education including information with illustrations showing correct bandaging practices, and using bandaging care plans to identify complications through enhanced learning on pain assessment, heat, swelling, discharge, smells, strike through, and correct limb positioning throughout the application.
This review provides an overview of bandage complications in equines and gives information on how they can be resolved and, importantly, how they might be prevented using protocols and enhanced education and training.
We encourage discussion on all material highlighted in each edition of inFOCUS. Use the button below to join the conversation on Twitter and include your comment in the feed for this issue.
Twitter feed is not available at the moment.
https://www.infocusvj.org/wp-content/uploads/2021/10/vet-bandadge-horse.jpg
565
848
Myai Du
https://www.infocusvj.org/wp-content/uploads/2018/06/infocus-logo-2018-v2-300x238.png
Myai Du
2021-10-20 08:40:13
2021-10-20 19:12:18
Factors that cause bandage complications in equines and how they can be resolved