Published 6 June 2022 | updated 27 June 2022
Monkeypox is considered to be a zoonosis and various species have been identified as susceptible to the virus with rodents considered the natural reservoirs of infection. Monkeypox has not been detected in animals in the UK. However, the UK Health Security Agency (UKHSA) on behalf of the joint Human Animal Infections and Risk Surveillance (HAIRS) group, has published a risk assessment.
Qualitative assessment of the risk to the UK human population of monkeypox infection in a canine, feline, mustelid, lagomorph or rodent UK pet. [UK Health Security Agency] [online]. Available from: https://www.gov.uk/government/publications/hairs-risk-assessment-monkeypox/qualitative-assessment-of-the-risk-to-the-uk-human-population-of-monkeypox-infection-in-a-canine-feline-mustelid-lagomorph-or-rodent-uk-pet [accessed 1/6/2022]
This document recommends that susceptible mammalian pets, that were in direct close contact with an infected human, should be isolated for a period equivalent to the human maximum incubation period of 21 days. Veterinary management of animal patients involves symptomatic treatment and supportive care, as required.
It should be noted that susceptibility of animals, including white rats, rabbits, golden hamsters, and guinea pigs, appears to depend on the route of inoculation and age / immune status of the animal.
Further details of the evidence relating to the susceptibility of different species can be found in the following published papers.
This paper includes the following table: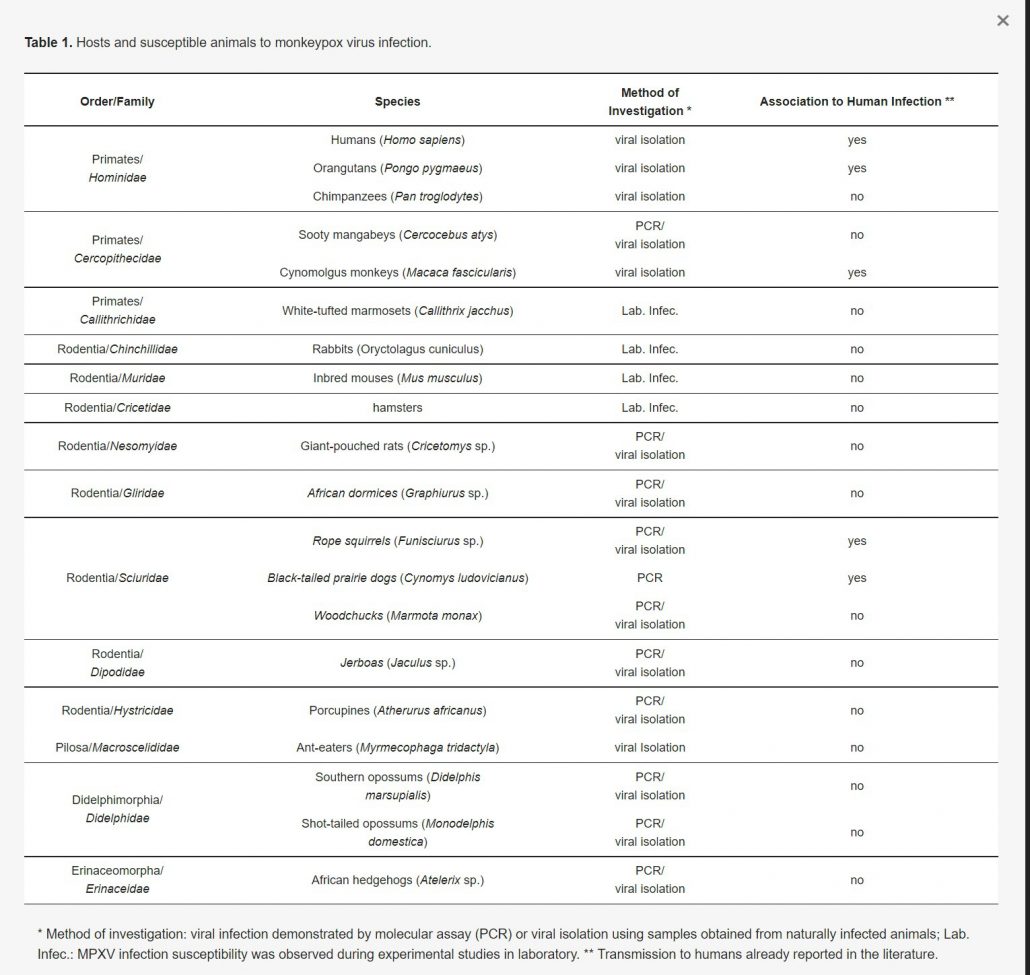 [Reproduced under Creative Common CC BY license from: Silva, N.I.O. et al. (2020) Here, there, and everywhere: the wide host range and geographic distribution of zoonotic orthopoxviruses. Viruses, 13 (1), p.43. https://doi.org/10.3390/v13010043]
The World Organisation for Animal Health (OIE) have also produced a list of questions and answers on moneypox and animals.
Questions and answers on moneypox and animals. [World Organisation for Animal Health] [online]. Available from: https://www.woah.org/en/disease/monkeypox/ [accessed 6 June 2022]
https://www.infocusvj.org/wp-content/uploads/2018/06/infocus-logo-2018-v2-300x238.png
0
0
Myai Du
https://www.infocusvj.org/wp-content/uploads/2018/06/infocus-logo-2018-v2-300x238.png
Myai Du
2022-06-06 14:16:26
2022-06-27 09:07:26
Monkeypox in animals