Use of reduced-energy content maintenance diets for modest weight reduction in overweight cats and dogs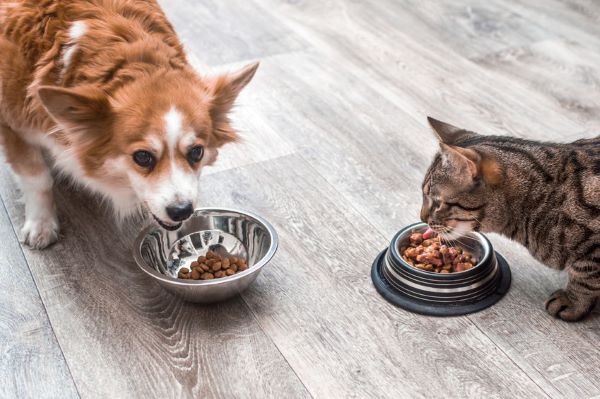 Author(s):
E. Keller, E. Sagols, J. Flanagan, V. Biourge, A.J. German
Published in:
Date:
August 2020
DOI:
Type of access:
Keller, E. et al. (2020) Use of reduced-energy content maintenance diets for modest weight reduction in overweight cats and dogs. Research in Veterinary Science, 131, pp. 194-205
This prospective, observational cohort study aimed to test the efficacy of reduced-energy maintenance diets for short-term weight reduction in overweight dogs and cats; and to determine if weight reduction could be achieved whilst ensuring essential nutrients intake was met.
The study was organised by Royal Canin, using products from their range of reduced-energy maintenance diets for dogs and cats, and was administered by CEN Nutriment (https://www.cennutriment.fr/). Owners were invited to participate by CEN Nutriment and a veterinary nurse, who was employed by them, selected suitable cases. To be eligible, dogs had to be healthy adults, with a body condition score of 6/9 or 7/9 consuming a standard maintenance diet. During the eight-week study period, dogs were fed at approximately 80% and cats at approximately 70% of maintenance energy level requirements for ideal bodyweight and essential nutrient intake. The essential nutrient intake estimate was based on minimum requirements defined by the National Research Council (NRC).
The dogs were fed one of four dry kibbled diets according to their size group and the cats were fed either dry food or a combination of wet and dry food choice based on their preference. Clinical checks occurred at four and eight weeks. In addition, owner observations of any food-seeking behaviour, changes in quality of life (QOL) and mobility in the time between the visits were recorded.
Sixty-seven dogs and seventeen cats with body condition scores of 6/9 or 7/9 started the weight-loss programme. Analysis of the data showed that 84% of dogs experienced weight loss, 39% of dogs lost more than 6% of body weight and 9% achieved their ideal body weight after eight weeks. There was no difference in outcome between size groupings.
Weight loss was seen in all 17 cats, with 53% losing more than 6% of body weight and 12% achieving their target weight. There was no difference between cats fed dry food exclusively or in combination with wet food with any of the weight loss measures.
There were no signs of nutrient deficiency observed during the study, though the level of a small number of nutrients was below the recommended daily intake in a minority of cases.
Limitations of the study included: the intervention used was a single range of diets produced by Royal Canin; the small sample size of cats; the short duration of the study, and the fact that the owner assessments of behaviours were subjective. In addition, the study only used the 2006 NRC nutritional guidelines rather than also comparing with guidelines produced by the European Pet Food Industry (FEDIAF) or the Association of American Food Control Officials.
This study provides some evidence on the safety of using reduced-energy maintenance diets to produce modest weight loss in overweight dogs and cats. Further longer-term studies, including products from other manufacturers, are encouraged.
We encourage discussion on all material highlighted in each edition of inFOCUS. Use the button below to join the conversation on Twitter and include your comment in the feed for this issue.
Twitter feed is not available at the moment.
https://www.infocusvj.org/wp-content/uploads/2020/08/dog-and-cat-eat-from-a-bowl.jpg
399
600
Myai Du
https://www.infocusvj.org/wp-content/uploads/2018/06/infocus-logo-2018-v2-300x238.png
Myai Du
2020-08-26 07:46:00
2020-08-27 10:32:36
Use of reduced-energy content maintenance diets for modest weight reduction in overweight cats and dogs